The MS Fitness Challenge strives to provide useful, interesting and entertaining content for MSers. We have assembled some of the best minds in fitness to partner with MSFC to deliver their own unique perspectives and share their expertise with you. Please watch these programs as many times as you like to really absorb the messages.
The MSFC No-Cost Programs are provided by the amazing support of EMD Serono, a biopharmaceutical company that understands the importance of fitness in the management of MS.
EMD Serono has a long-standing legacy of making a difference in the lives of patients and their loved ones.
8-WEEK FITNESS CHALLENGE
This is how it all started. The 8-Week MS Fitness Challenge is for everyone with MS, even if you have never set foot in a gym before. Our trainers work with people of all ages, fitness levels and stages of MS progression, whether coordination challenged or wheelchair bound. All that knowledge and expertise went into creating an online video training program specifically to benefit MSers' personal needs, goals and abilities.
Access classes on your phone or tablet

Facebook group to talk to trainers and other participants
Mental Health and Well-being with Lisa Kelledy
Lisa Kelledy has a PhD in Family Therapy and specializes in working with clients with chronic illness. She was diagnosed with MS in 1992 and has combined her health experiences and education to support many individuals, couples, and families. The life experiences of managing MS has supported her therapeutic work as she implements her own support structures that have enabled her to manage the chronic illness. As a researcher of the mental health implications of this illness, she has incorporated strategies to promote the connection between mental health and healing.
Mindset Motivation with Shanna Ferrigno
Daughter of the famed bodybuilder and actor, Lou Ferrigno, Shanna has been a health and fitness educator for the past decade. She has helped balance thousands of people's lives through her work as a lifestyle coach. Traveling throughout the world, Shanna motivates her audiences everywhere she goes to take on the challenge of healthy living.
Nutrition Basics with Monica Pelle
Monica Pelle is an inspiring dietitian & personal trainer, who empowers people with MS to take control of their health by addressing the most important dimensions of their holistic health. Her one-of-a-kind Transformational Wellness approach has brought consistency & clarity to the lifestyle of many MS Warriors. She is an accomplished speaker & educator and was a key nutrition contributor to David's book, Everyday Health and Fitness with Multiple Sclerosis.
Inspirational Wellness with Maureen Manley
Maureen Manley is a former member of the US National Cycling Team, an Exercise Scientist, holds a master's degree in Integrated Wellness and has been living with MS for 28 yrs. Maureen is an inspirational speaker, coach and high-performance consultant, who, for over 18 years, has inspired and educated thousands across the country on how to gain the winning edge by fostering a holistic, self-empowering lifestyle to thrive with MS.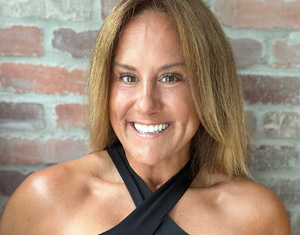 Full Exercise Routine with Angie Gensler
After quietly managing Multiple Sclerosis, focusing on daily self-care for 13 years, I met David Lyons of MS Fitness Challenge 4 years ago and realized I could do more. MSFC helped me recognize the deficits in my daily routines. With mentorship in proper nutrition, fitness and mindset, along with optimal supplementation, I have developed a daily regimen of self-care to become the best version of myself today. Sharing what I have learned and being a positive influence of change for others living with MS has been life changing.  Proud to be named a coach for David's OptimalBody Fitness Training Program to make a true impact in the MS Community.
If you enjoy these programs, please consider donating so we may provide more content like this in the future.