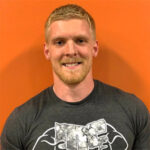 The MS Fitness Challenge is excited to announce our 12 Week Fitness Challenge. Details are still a bit sketchy, but here is what we know so far:
Stephen Glaus, our Assistant Director of Fitness, has partnered with Spooky Nook Sports in Manheim, PA to host a 12 Week Challenge this fall. As you may already know, the 12 Week Challenge is an in-person challenge designed to kick your training into high gear. Anyone familiar with the 8 Week Online Challenges know basically how it works, only this time, participants get to work with live trainers in a gym environment. Everything they learn will prepare them to go home and continue their fitness lifestyle to take control of MS.
Spooky Nook Sports is located at 2913 Spooky Nook Road, Manheim, PA 17545.
---
Hear from a few of the attendees:
---

Spooky Nook Sports Centers are the largest indoor sports complexes in North America. Their mission is "to create incredible places for people to gather, develop, play, and compete."